Byczek Law Online Store
---
Bill of Sale - $35
A Bill of Sale is a contract between a buyer and seller for the transfer of certain items being sold. Examples include a motor vehicle, animal, antiques, or music collection.
Real Estate (i.e. your home) cannot be sold with a Bill of Sale. Such a transaction requires a far more detailed sales contract. However, a real estate sales contract is often accompanied by a Bill of Sale to transfer items inside the house (i.e. furniture and appliances).
There are other types of transactions that are too complicated for a simple Bill of Sale, such as selling a business.
The document will contain a notary provision for the seller to compete for the best possible protection.
Once payment is received and the written Attorney-Client agreement acknowledged, you will receive access to a secure collaborative file sharing platform to exchange documents and information.
The contract shall be customized based on what is being sold.
A standard Bill of Sale for common items, like antiques, may include the following information:
- Buyer/Seller's name and address
- Description of the property
- Price of each item
- Total price of transaction
A motor vehicle requires more specific details:
- VIN
- Make
- Model
- Body Style
- Year
- Color
- Mileage
- State of Current Registration
- Conditions/Disclosures
- Buyer's Name and Address
- Seller's Name and Address
- Price
- Deposit
- Balance and When Due
Disclaimer: The documents are only valid for residents of Illinois and are provided for personal non-commercial use.
For more information about Michael E. Byczek:
Law website: http://attorney.byczek.pro
Detailed profile: http://www.michaelbyczek.pro
Email: michael@byczek.pro
---
This customized legal service requires a written Attorney-Client agreement. You must read, acknowledge, and submit the agreement before an attorney-client relationship is formed. You may send payment first, but legal services shall not be provided without the agreement.
Online payments may be made with
PayPal
or
Venmo
through the following options (link opens a QR Code for payment).
1. Scan the QR code (below) for a one-time payment of $35 (click for a larger image)
2. Visit
paypal.me/michaelbyczek
to send a payment using PayPal or
www.venmo.com/michaelbyczek
for Venmo.
3. Direct payment to @michaelbyczek for both PayPal and Venmo.
Options 2 and 3 require that you manually enter $35 as the payment amount.
You may include a comment about which service you requested. Otherwise, your payment will be matched to the attorney-client agreement after it is submitted.
Contact Michael E. Byczek if you would rather send a check or money order.
Note:
If you order multiple legal products, you may send a single combined direct payment.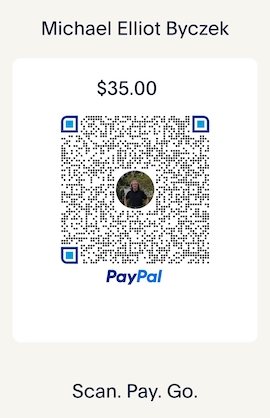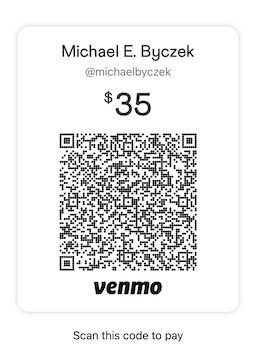 ---
Back to Store
Main Legal Site