Byczek Law Online Store
---
Standard Fill-in-the-blank Pet Guardianship Agreement - $20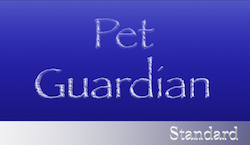 This package is for a standardized fill-in-the-blank legal document without any customized provisions.
Who will care for your pets upon your death or during a medical emergency when you are unable to care for them yourself?
A Pet Guardianship Agreement is one document that should be included in an estate plan along with your Will, Trust, and/or Power of Attorney.
Explain your wishes for who and how your pets should be cared for when the time comes.
1. Fully identify each pet. This basic document includes provisions for up to three pets. Include special instructions, such as medication or a specific form of exercise.
2. Name a primary and alternate/successor guardian for each pet. An option is included for the same guardian to take all your animals.
3. Pick an animal shelter or organization, as a last resort, to take your pets if nobody is willing to honor your wishes.
4. Arrange for the appointed guardians to receive money to care for your pets. These guardians would keep any remaining money after each pet's death.
5. Identify your veterinarian, so that each guardian has access to medical records, continuing treatment, or medication.
6. Determine whether each guardian has authority for euthanasia to be performed.
7. Provide instructions for what happens after each pet's death, such as burial arrangements.
8. List up to three trusted relationships (i.e. dog walker, groomer, day care facility) so that the guardians know who you trust.
9. Each guardian must sign the document and consent to take legal responsibility for your pets.
10. Two witnesses need to watch you sign the document, and sign it themselves.
When planning for how your pets will be cared for upon your death or your own inability to care for them, you need to consider every possibility. This includes making a Will and having a Power Attorney for financial decisions.
Without a Will, your family could challenge your intentions to give the pet guardians money for their care. Without a Power of Attorney, your appointed guardians may not have any access to your financial accounts.
A Pet Guardianship Agreement is a good idea to protect your pets. It allows you to pick who should take responsibility for them. You don't want your pets taken to an animal shelter because your family was fighting over your estate. Somebody could claim a verbal promise from you. Without a written agreement, anybody could simply take the pets, including those who you would never approve.
Each page and any corresponding document of the Pet Guardianship Agreement shall include a notary provision. While not required by law, Michael E. Byczek includes these provisions for the best possible protection.
How to Order
Disclaimer: This package is intended for residents in Illinois to write a guardianship plan for their pets. Those outside Illinois may refer to the documents and instructions for reference to write their own agreement themselves that comply with their own local laws. The documents are Illinois-specific.
Legal services are not provided as part of this package. Michael E. Byczek does not represent you and will not provide any legal advice or assistance. Legal services are available for an additional fee, which requires an attorney-client agreement.
To place an order for these standardized documents, please read and acknowledge the
Blank Legal Document Agreement
. By submitting this form, you are acknowledging that the documents are provided in fill-in-the-blank format without any legal assistance. You will be asked for an email address to send the PDF documents.
As part of the disclaimer, you will be asked which Fill-in-the-blank document you are requesting.
Both payment and Blank Legal Document Agreement must be submitted prior to delivery of the requested Guardianship Agreement.
The documents are provided for personal non-commercial use.
---
This Fill-in-the-blank legal document requires a Blank Legal Document Agreement. You must read, acknowledge, and submit the agreement and send payment before the documents are emailed in PDF format to the provided email address. You may send payment first, but the documents shall not be provided without the agreement.
Online payments may be made with
PayPal
or
Venmo
through the following options (link opens a QR Code for payment).
1. Scan the QR code (below) for a one-time payment of $20 (click for a larger image)
2. Visit
paypal.me/michaelbyczek
to send a payment using PayPal or
www.venmo.com/michaelbyczek
for Venmo.
3. Direct payment to @michaelbyczek for both PayPal and Venmo.
Options 2 and 3 require that you manually enter $20 as the payment amount.
You may include a comment about which service you requested. Otherwise, your payment will be matched to the agreement after it is submitted.
Contact Michael E. Byczek if you would rather send a check or money order.
Note:
If you order multiple legal products, you may send a single combined direct payment.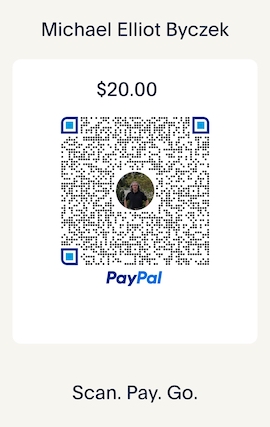 ---
Back to Store
Main Legal Site