Byczek Law Online Store
---
Power of Attorney for (1) Health Care or (2) Property - $50 Each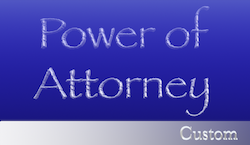 There are two types of standardized power of attorney forms in Illinois: (1) Health Care and (2) Property.
These documents are used to appoint an agent to make decisions. This delegation of authority involves the permissible scope of the agent's authority, clarify this power, and provide assurance to those who rely on the document.
The basis of such a document is to specify an event or time when the delegation of authority begins and ends. Also, to describe the rights, powers, duties, limitations, immunity, and other terms applicable to how the agent carries out this authority.
The Power of Attorney for Property is used to authorize an agent to deal with property and financial affairs. This includes the power to pledge, sell, or dispose of real or personal property.
Power of Attorney for Health Care is used to control medical treatment, including the right to decline or withdraw the treatment. It also includes decisions after death, such as disposition of remains and anatomical gift.
There are statutory requirements about witness and notary provisions. Regardless of what is required by law, Michael E. Byczek includes a notary provision for the best possible protection.
The documents are standardized according to Illinois statute, but Michael E. Byczek shall work with the client to determine whether there are any special language or requests that should be incorporated into the document that best suits any particular intentions.
Once payment is received and the written Attorney-Client agreement acknowledged, you will receive access to a secure collaborative file sharing platform to exchange documents and information.
Disclaimer: The documents are only valid for Illinois and are provided for personal non-commercial use.
For more information:
Law website: http://attorney.byczek.pro
Detailed profile: http://www.michaelbyczek.pro
Email: michael@byczek.pro
---
This customized legal service requires a written Attorney-Client agreement. You must read, acknowledge, and submit the agreement before an attorney-client relationship is formed. You may send payment first, but legal services shall not be provided without the agreement.
Power of Attorney for Health Care
Power of Attorney for Property
Online payments may be made with
PayPal
or
Venmo
through the following options (link opens a QR Code for payment).
1. Scan the QR code (below) for a one-time payment of $50 (click for a larger image)
2. Visit
paypal.me/michaelbyczek
to send a payment using PayPal or
www.venmo.com/michaelbyczek
for Venmo.
3. Direct payment to @michaelbyczek for both PayPal and Venmo.
Options 2 and 3 require that you manually enter $50 as the payment amount.
You may include a comment about which service you requested. Otherwise, your payment will be matched to the attorney-client agreement after it is submitted.
Contact Michael E. Byczek if you would rather send a check or money order.
Note:
If you order multiple legal products, you may send a single combined direct payment.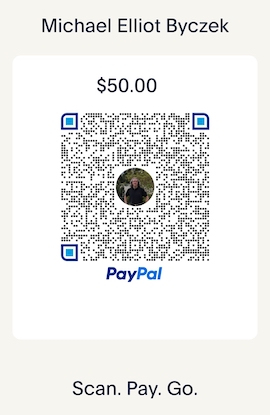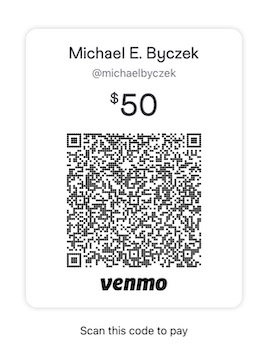 ---
Back to Store
Main Legal Site