Byczek Law Online Store
---
Standard Fill-in-the-blank Real Estate Sales Contract - $20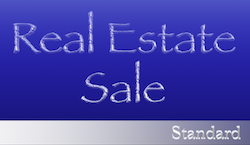 This package is for a standardized fill-in-the-blank legal document without any customized provisions.
Used by those who want to sell or purchase real estate without a real estate broker through a "For Sale By Owner" transaction. This package includes the following documents that are part of a residential sales contract in Illinois:
1. Sixteen-page sales contract
2. One-page Bill of Sale
3. One-page counteroffer form
4. Lead-based paint disclosure form
5. Lead-based paint disclosure pamphlet
6. Radon gas disclosure form
7. Radon gas disclosure pamphlet
8. Property condition disclosure form
The seller of this package, Michael E. Byczek, is a licensed managing real estate broker and attorney in Illinois. He has been licensed as a broker since 2003 and an attorney since 2007.
The sales contract, bill of sale, and counteroffer form were written by Michael E. Byczek. The Property condition disclosure form was copied directly from the Illinois statute and formatted to print. The Lead paint documents were saved directly from the federal EPA website. The Radon gas documents were saved directly from the Illinois IEMA website.
These documents are explained through a tutorial to understand the components of a real estate transaction using the sales contract to explain the process. Also included is a brief summary of legal requirements before and after the contract is signed along with helpful tips about how to market the property, determine a fair asking price, and take prospective buyers on a property tour. Tips include how to disclose the presence of home security systems while on a property tour, steps to stay safe while preventing those pretending to be prospective buyers from gaining access to your property, and avoiding scams to sign a sales contract. Relevant laws are included, such as anti-discrimination and federal lead-paint disclosures. The sales contract includes provisions for an "AS IS" sale.
Terms that you will read about include as-is condition, short sale, inspections, repairs, mortgage contingency, title insurance, surveys, lead-paint, radon gas, property defects, bill of sale for personal property, earnest money, utility costs, VA/FHA loans, and real estate taxes.
How to Order
Disclaimer: The documents are only valid for real estate located in the State of Illinois. Those outside Illinois may use this package for reference to understand how to sell real estate without a broker. Illinois-specific documents may be used as a template to write your own contracts that comply with local laws using the tutorial as a guide.
The intended audience are those who want to sell their residential property without a broker and are willing to research and learn about the process on their own using this package as a guide to get started. The sales contract was written for broad coverage, but customization may be required to fully satisfy your personal preferences.
Legal services are not provided as part of this package, which is meant to guide buyers or sellers who represent themselves during a real estate transaction. Michael E. Byczek does not represent you and will not provide any legal advice or assistance. Legal services are available for an additional fee, which requires an attorney-client agreement.
To place an order for these standardized documents, please read and acknowledge the
Blank Legal Document Agreement
. By submitting this form, you are acknowledging that the documents are provided in fill-in-the-blank format without any legal assistance. You will be asked for an email address to send the PDF documents.
As part of the disclaimer, you will be asked which Fill-in-the-blank document you are requesting.
Both payment and Blank Legal Document Agreement must be submitted prior to delivery of the requested Real Estate Sales Contract.
The documents are provided for personal non-commercial use.
---
This Fill-in-the-blank legal document requires a Blank Legal Document Agreement. You must read, acknowledge, and submit the agreement and send payment before the documents are emailed in PDF format to the provided email address. You may send payment first, but the documents shall not be provided without the agreement.
Online payments may be made with
PayPal
or
Venmo
through the following options (link opens a QR Code for payment).
1. Scan the QR code (below) for a one-time payment of $20 (click for a larger image)
2. Visit
paypal.me/michaelbyczek
to send a payment using PayPal or
www.venmo.com/michaelbyczek
for Venmo.
3. Direct payment to @michaelbyczek for both PayPal and Venmo.
Options 2 and 3 require that you manually enter $20 as the payment amount.
You may include a comment about which service you requested. Otherwise, your payment will be matched to the agreement after it is submitted.
Contact Michael E. Byczek if you would rather send a check or money order.
Note:
If you order multiple legal products, you may send a single combined direct payment.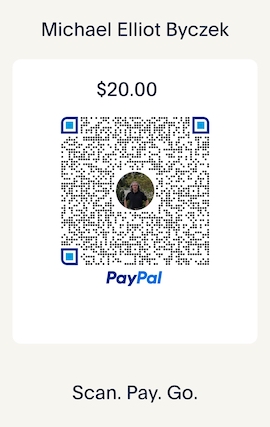 ---
Back to Store
Main Legal Site