Byczek Law Online Store
---
Illinois Will - AI Legal Consultation
$9.99 (Single Individual) or $14.99 (Married)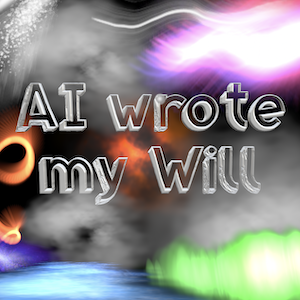 Michael E. Byczek will review your AI-generated Will to verify that the document complies with Illinois law and fulfills your intentions.
Watch a
tutorial video
prepared by Michael E. Byczek with examples and insight into using ChatGPT to write your own Will using AI.
You are in complete control of your estate plan. Use an AI platform, such as ChatGPT, to generate a Will. Copy/paste the AI output into a word processor to print. Before signing the Will, let Michael E. Byczek make sure that the AI generated Will is legally accurate. He will advise whether any changes should be made, but unless there are serious legal issues, you are free to update the Will based on your own judgment.
You don't need an attorney to write a Will. The only requirement is to comply with the Illinois Probate Act statutory provisions that apply to Wills (755 ILCS 5/4 available from the
Illinois General Assembly
).
There are a multitude of websites that show you how to write your own Will. However, these sites require that you write the Will from scratch using their templates as examples.
Artificial Intelligence (AI) is a method for computers to solve problems and make decisions like a human. Users interact with AI platforms in a human-like format as if having a conversation with the computer. It is a field within computer science that leverages machine learning and deep learning to make predictions or classifications based on input data.
ChatGPT from OpenAI
is a publicly accessible AI platform that can be used by anybody regardless of technical experience. The only requirement to use the free version is to create an account on the company website. Users can then interact with ChatGPT in a similar manner to having an online chat. The only difference, is that the response is generated by a computer.
ChatGPT has changed the way that attorneys complete routine legal work, such as writing documents. Now anybody with access to ChatGPT can generate legal documents, such as a Will.
However, ChatGPT or any other AI platform does not always get everything right. In fact, OpenAI includes a disclaimer when asking ChatGPT to write a Will that an attorney should review the document for accuracy and legal validity.
Just because you ask ChatGPT a question, such as how to write a Will, doesn't mean that the final document will actually accomplish what you intend to achieve. In the case of a Will, inaccurate provisions may result in your wishes being ignored.
Michael E. Byczek has been a licensed Illinois attorney since 2007. He has a background in computer science and engineering, such as professional software development experience. As an attorney, Michael E. Byczek has written Wills and appeared in Probate Court on behalf of clients.
Just provide Michael E. Byczek with a PDF copy of your AI-generated Will and he will let you know whether the document is valid. The quickest solution is to email a PDF copy. You will receive an email response.
If you revise the Will based on legal recommendations, Michael E. Byczek shall evaluate those revisions for one final review.
Two options are available: (1) a single individual with one Will, or (2) a married couple requesting review of two Wills.
If you prefer, Michael E. Byczek will write your Will himself without any AI involvement. He also offers mobile apps (
www.byczek.pro
) for iOS, macOS, and Android to write your own Will or purchase a fill-in-the-blank PDF download.
Visit the Byczek Law Online Store for a customized Will of a
Single Individual
for $99 or a
Married Couple
for $149.
Disclaimer
: This package is only for residents of Illinois.
For more information:
Law website: http://attorney.byczek.pro
Detailed profile: http://www.michaelbyczek.pro
Email: michael@byczek.pro
---
This legal service requires a basic written Attorney-Client agreement. You must read, acknowledge, and submit the agreement before an attorney-client relationship is formed. You may send payment first, but legal services shall not be provided without the agreement.
Each spouse must submit their own separate attorney-client agreement. Only one fee is required, even though two agreements are submitted. This step is the virtual equivalent of two spouses signing a single physical contract in-person.
Online payments may be made with
PayPal
or
Venmo
through the following options (link opens a QR Code for payment).
1. Scan the QR code (below) for a one-time payment of $9.99 or $14.99 (click for a larger image)
2. Visit
paypal.me/michaelbyczek
to send a payment using PayPal or
www.venmo.com/michaelbyczek
for Venmo.
3. Direct payment to @michaelbyczek for both PayPal and Venmo.
Options 2 and 3 require that you manually enter the payment amount.
You may include a comment about which service you requested. Otherwise, your payment will be matched to the attorney-client agreement after it is submitted.
Contact Michael E. Byczek if you would rather send a check or money order.
Note:
If you order multiple legal products, you may send a single combined direct payment.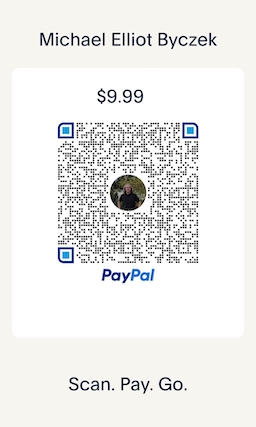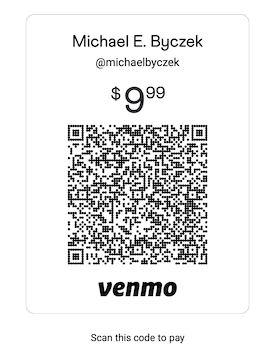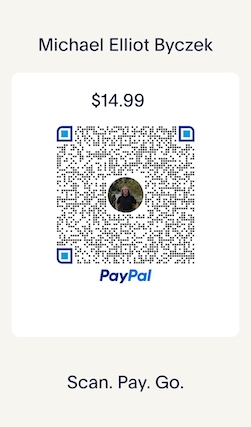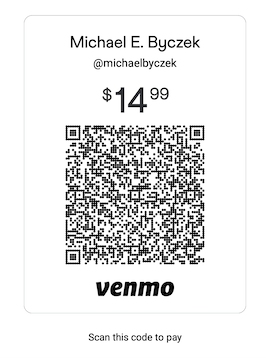 ---
Back to Store
Main Legal Site